For those who are into how the audio is captured, processed, recorded and delivered…
Microphone – Neumann U 47 Condenser
My principal microphone is a Neumann U 47—serial number 485, manufactured in 1951—the holy grail of microphones, used by world-renowned vocalists from Etta James to Frank Sinatra, Willy Nelson, the Beatles, and Andre Bocelli. This particular U 47 was the first microphone through which I recorded a paid, professional narrative in 1971.
The microphone retains its original M7 capsule and the original hand-wound BV-08 output transformer. In 2019, the U 47 was rebuilt by the Mic Shop in Hendersonville, Tennesse, and an Andreas Grosser VF-14ER tube was installed. In early 2021, the M7 capsule was reskinned by Siegfried Thiersch in Germany. The U 47 is now ready for another 70 years of service.
My secondary microphone is a meticulously hand-crafted duplicate of the legendary, mid-1950s AKG C 12. The mic was custom-made by Lee Dyess — http://www.leedyess.com/ — who, working from vintage AKG schematics, painstakingly duplicated the circuitry of the original C12 except that he used all-new American and German components, including an AMI T14 output transformer which is identical to that of a 1954, 2nd generation C12.
My third microphone is a Sennheiser MKH 416 shotgun, which is widely used in the motion picture industry for capturing dialogue. Worked up close in a voice booth, the 416 is renowned for capturing those "In a world…" movie trailer deliveries.
Why a 70-year-old Neumann U 47?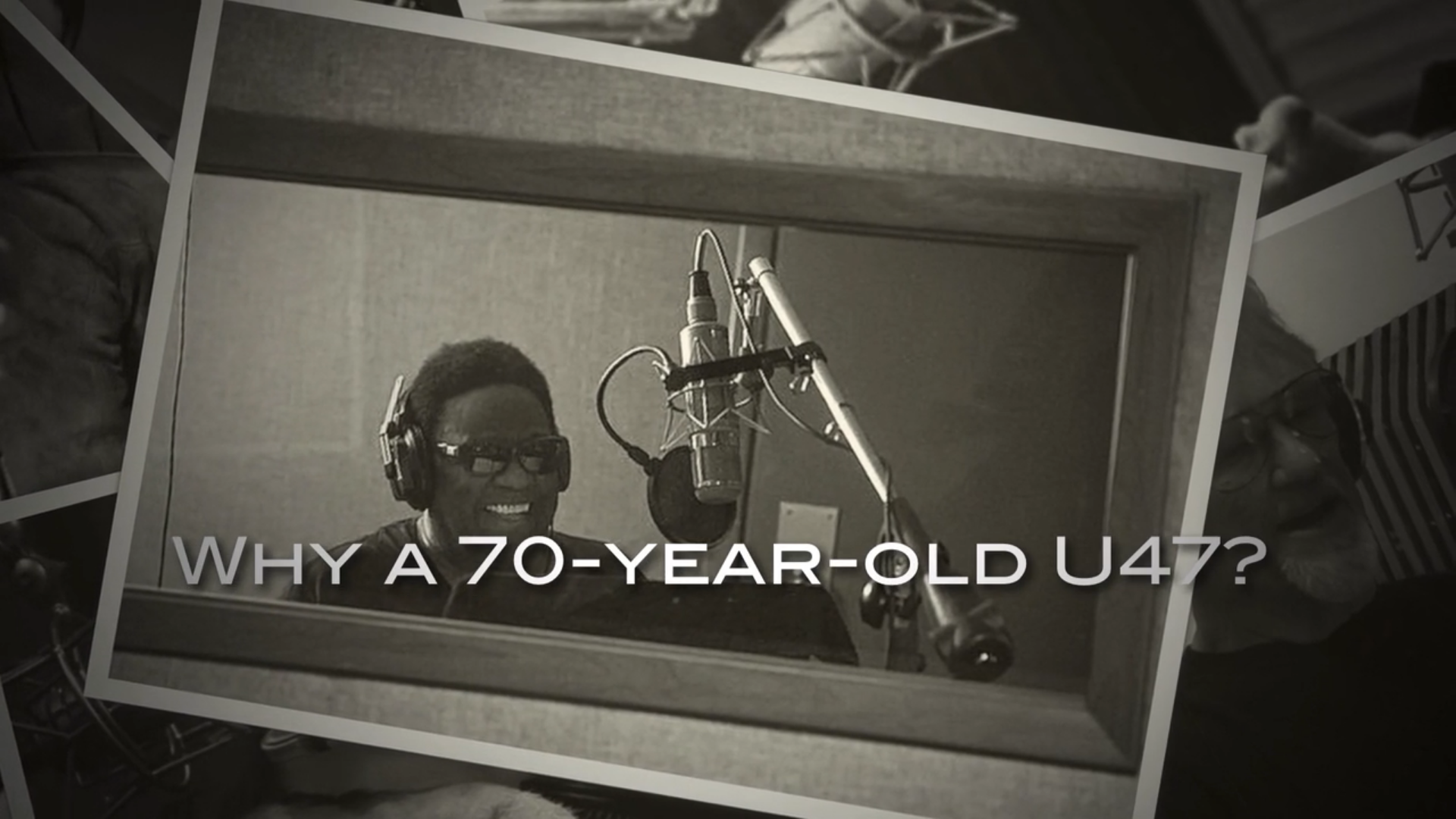 This video illustrates just a few reasons it was worth restoring a seventy-year-old classic German microphone.
AD/DA Converter and Mic Preamp – PrismSound Lyra II
The AD/DA converter is the weakest link in most voice talents' recording systems… not here. My U 47's output goes directly into a PrismSound Lyra II, the pinnacle of compact audio interfaces, which uses the same converters as the legendary PrismSound Orpheus, Titan and Atlas products found in the world's finest recording facilities. With near-identical bench-test measurements to the Orpheus, Titan, and Atlas, the Lyra II is likely the absolute best two-channel recording interface available, capable of artifact-free resolutions as high as 24-bit/192 kHz. With a preamp section that has been compared to the John Hardy, Grace, and the BAE preamps, the sound is totally free of coloration. In short, it's simply perfect. #prismsoundrecording
The DAW – Mac Mini Server with Reaper Tracking and Editing Software
My primary computer is a Mac Mini Server with an Intel Core i7 processor, two 1 TB solid-state drives, 16 GB of RAM, and 8 TB of outboard storage. I'm running the latest 64-bit version of Reaper tracking and editing software with plugins by iZotope, Softube, WAVES, and other audio software designers. Every track I record is processed with iZotope RX7, the motion picture industry standard for audio cleanup and clarity.
In other words, no clicks, no pops, no mouth noise; just pristine audio.
Remote control of the recording software from my voice booth is accomplished with a PreSonus Fader Port. With this setup, I'm able to record in resolutions up to 24-bit/192 KHz, although most clients prefer files of 24-bit/48 kHz.
I subscribe to SourceConnect Standard for live, real-time, two-way voice recording capability.
The Voice Booth – Custom Crafted Double-Walled Fortress
It doesn't matter that a voice talent has a $10,000 microphone and a $2,500 AD/DA converter. If the acoustical environment isn't almost anechoic, the resulting audio recording will have coloration, room resonance, and ambient sounds that degrade the audio track. My double-walled voice booth was modeled after several commercially available isolation structures but with a number of significant improvements.
The walls, floor, and ceiling of my voice booth are over seven inches thick! They consist of five layers of sound reflection and absorption materials, each of differing properties. No component was left to chance. Half-inch layers of tempered window glass. Roxul Safe & Sound inner wall insulation. Solid core wood door with acoustic seals. Sonically-isolated power and signal connections. Isolated ventilation system. Noiseless LED lighting. Ceiling-mounted Triad-Orbit microphone boom. Computer monitor and video camera. No expense was barred in constructing this booth.
Located outside aviation flight paths and away from commercial and emergency traffic in a residential neighborhood, and at nearly 1,000 pounds standalone weight, the booth is, as they say, "dead as a doornail." When I record, all you hear is my voice.

What You Get
You may or may not choose my voice—I'm not the right voice for every project—but if you do, you'll get tracks as pristine as those from the finest audio recording facilities in the world.